Visitor Information
Visitors are very welcome at Bristol & Clifton. Our championship course is available to visitors on weekdays and weekends, subject to reservations for competitions, matches and other bookings. Bookings can be made up to five days in advance of play.
Charges:
Online booking available on Tuesdays, Thursdays and Saturdays up to five days in advance.
Green Fee rates from 1 April 2022:
| | Weekday | Weekend |
| --- | --- | --- |
| Visitors | £60.00 | £70.00 |
| Members' Guests | £30.00 | £35.00 |
| County Card | £40.00 | N/A |
| Junior | £10.00 | £10.00 |
| Junior Guests | £10.00 | N/A |
Green Fees after 4pm:
| | Weekday | Weekend |
| --- | --- | --- |
| Visitors Unaccompanied (Twilight) | £35.00 | £40.00 |
Buggies:
The club has a number of buggies for hire. Buggies can be reserved and paid for when making a tee booking. They are available at £16.00/round for members and £26.00/round for non-members.
Diary
The diary below indicates when the course has commitments to help you determine course availability. If you wish to play on a Tuesday, Thursday or Saturday then you can book and reserve your place directly on our tee booking system by clicking "Book a Tee Time" below.
To play on other days, please please call our Professional Shop on 01275 393474 and they will advise accordingly.
Should you wish to practice, for just £10.00 you can make use of our large practice area, chipping area and putting green.
Bristol Film Festival - Phantom of the Open - Standard Seating (bring your own chair)
30th August
⬅️ ⬆️ Ticket Booking - See top left hand side of page.
More details below this poster.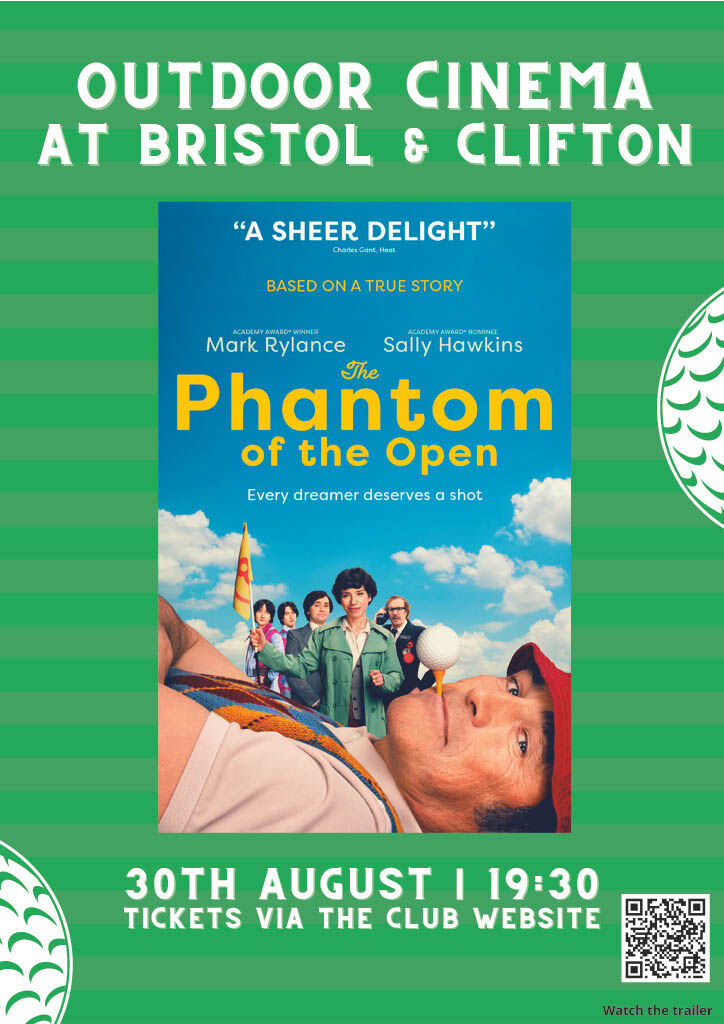 Come and join us for a very special outdoor screening of the 2022 film Phantom of the Open.
THE PHANTOM OF THE OPEN tells the heartwarming true story of Maurice Flitcroft (Mark Rylance), a dreamer and unrelenting optimist. This humble crane operator from Barrow-in-Furness managed to gain entry to The British Open Golf Championship qualifying in 1976, despite never playing a round of golf before. He shot the worst round in Open history and drew the ire of the golfing elite, but became a folk hero in the process and, more importantly, showed his family the importance of pursuing your dreams.
Timings:



Pre-screening food - from 6.45pm. A range of options will be available and we'll communicate these to ticket holders in advance of the event.




Pre-screening drinks - from 6.45pm




Final arrivals - 7.30pm




Audience invited to take seats for screening - 8.00pm




Film begins - 8.15pm




Film ends - 10.00pm




Bar closes - 10.30pm



Premium Seating - sit in our chairs which have been set out for you in front of the big screen - £17.00pp - Book Here.
Standard Seating - bring your own chair and choose where you sit - £15.00pp - Book Here.
FAQs:



Can I bring non-members to this event? Yes




Is there a reduced price for children or wheelchair users? No, sorry.




Can I bring my own food/drink? No, sorry, all food and drink consumed on our premises should be purchased on our premises.



Can I buy tickets for non-members? Yes, we'd love you to bring your friends, families, neighbours etc.



What is the Age Rating for the film? Phantom of the Open is classified 12A and video works classified 12 contain material that is not generally suitable for children aged under 12. No one younger than 12 may see a 12A film in a cinema unless accompanied by an adult. Adults planning to take a child under 12 to view a 12A film should consider whether the film is suitable for that child.



Please refer to our Terms, Conditions and Refunds policy here.